Nähen ist ein Handwerk, das den Menschen formt.
We received a commission from somebody who found out about our "shop" by way of this blog post. The post only mentions our shop in passing as our sign "Elektronische Textilien" on the clean window of our shop next to the sticker ridden sweet machine dispenser…. it triggers a whole paragraph of thought about the place and practice of tailors and tailoring…. as he documents the demise of Kreuzberg to the hipsters….
If you read through the comments section in search of "Elektronische Textilien" you can read a whole range of thoughts and opinions about tailoring and wearable tech.
Kreuzberger Nächte werden kurz gemacht, 27. Januar 2018 von Don Alphonso:
>> http://blogs.faz.net/stuetzen/2018/01/27/kreuzberger-naechte-werden-kurz-gemacht-8683/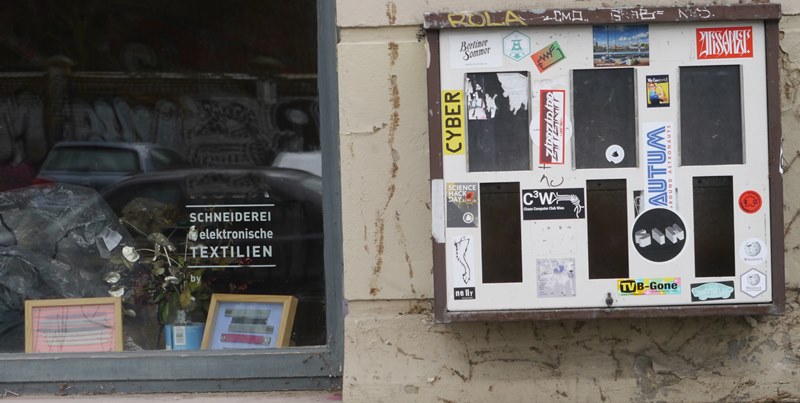 "Aber ich habe ja den Traum an der Wand gesehen, und deshalb noch etwas genauer hingeschaut, und wir wissen ja, jede Kultur trägt den Keim ihres eigenen Verderbens in sich. Und während einen zerschlagene Kaugummiautomaten aus leeren Augenhöhlen anstarren, während Sticker noch von Revolution und Aufbegehren künden, ist daneben eine saubere Schaufensterscheibe.
Der Berliner wird das nicht beachten, er denkt sich halt, dass wieder eine junge Frau versucht, aus ihrem Schneiderhobby einen Beruf zu machen. Irgendwas mit Mode. Stoff kreativ aneinander fügen. Teil der Do-it-yourself-Bewegung, kleines Kiezhandwerk, gegen Globalisierung, bio, was man halt damit so verbindet. Aber so einfach ist das nicht, denn Nähen ist eine relativ komplexe Arbeit. Nähen erfordert eine hohe Präzision und Vorausdenken, Struktur und Hingabe. Schlecht angezogene Menschen gehen vorbei und denken an das Rattern einer Nähmaschine. Aber ich gehe vorbei, sehe die bis in die Kanten saubere Scheibe und weiß, dass bei uns früher die Frauen um so begehrter waren, je besser sie nähen konnten. Nähen ist ein Handwerk, das den Menschen formt. Näherinnen müssen wissen, wo welche Knöpfe sind, wie viel Stoff sie vorrätig haben, wann etwas fertig sein muss und wie man mit Kunden über längere Zeit ernsthaft kommuniziert. Näherinnen sind, wenn sie wirtschaftlich überleben wollen, alles, nur nicht Berlin."
---
But little does he know that we are the ones responsible for many of those stickers announcing revolution and protest ("…Sticker noch von Revolution und Aufbegehren künden…") on that sweet machine…
Container:

Especially that #wickedfabrics one: