Crochet Resistance
Dominique has commissioned us to crochet a resistive cladding for the performance she is currently developing. Dominique came to a talk in which I explained the ohmHook – a tool for measuring while manipulating resistance – and was fascinated by the idea that the crochet costume she had in mind could also have an electrical resistance.
Flickr set >> https://www.flickr.com/photos/plusea/albums/72157695263141991
---
Dominique's Sketches
---
Crochet Resistance Loop
Sketch responding to Dominique's drawings and ideas…

---
Reference Images
crochet membrane seriese by Sonja Bäumel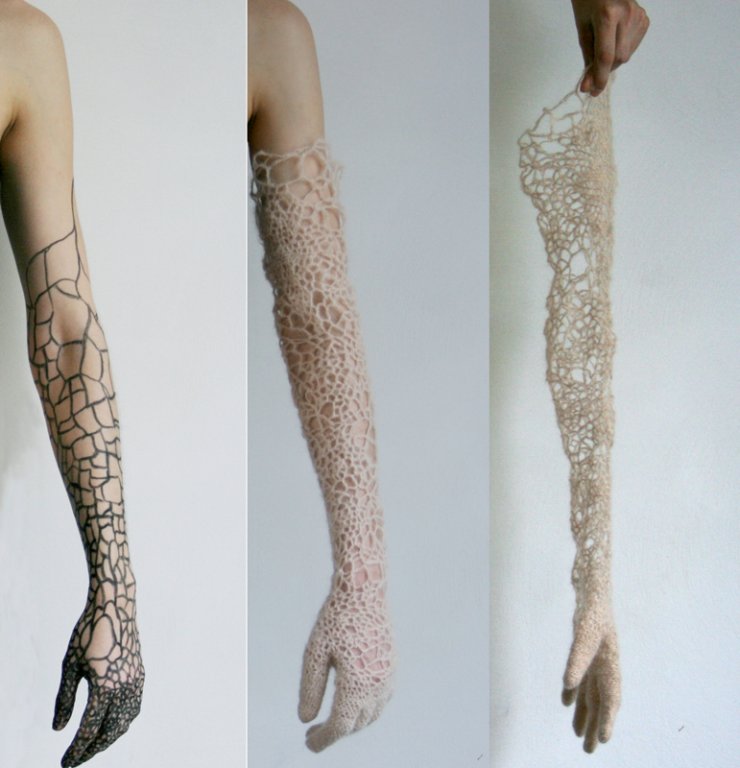 antique crochet gloves

Igne Oyasi (technique)

antique Crochet

---
First Crochet Samples (19/5/2018)
Starting with some first experiments in crochet pattern and different yarn weights and combinations. Possibility to measure different things such as:
– changes in resistance of resistivity yarn
– changes in skin resistance (conductive threads as contact probes)
– capacitive sensing
---
More Crochet Samples (22/5/2018)
Today we met with Dominique to further discuss the crochet costume and how to feed-back the data to herself and the habitat she will perform in.
The performance she is developing will become a lecture performance about "free time" in which she will share with the audience her research into this subject as well as perform her routine of "Liquidity". It is for this Liquidity performance that we are creating a crochet costume to capture the physical translation of the liquid state into which Dominique enters.
Notes from meeting
[insert]
5 minutes of Liquidity
Before leaving, Dominique let us watch her perform her daily Liquidity routine/training/ritual (to which she contractually bound herself for the duration of her Phd). This session lasted 5 minutes and gave us a nice idea of what she means when she talks about reacting to the energy in the space. From seeing her move, one idea came up, to add feet to capture movement of the body affecting pressure points under feet.

Gravity
The other main idea that came up through talking was the role of gravity in representing another physical force on her body, on the fabric, on the sensors…. that we could use in constructing the textile sensors / sensor fabric.
In order to have a heavy object embedded in the fabric I started crocheting around a marble but then soon moved on to crochet around a Danish Kroner coin – liquidity of money meets liquidity of resistance (in yarn, in skin) and/or gravity!
Capturing Process…. in the pattern?
We talked about how to capture our own process of creating the costume… because time is another element at play in the ideas around free time.
Random crochet:

---
Even More Crochet Samples (24/5/2018)
Yesterday and today we continued to crochet to explore different material combinations, aesthetics, and sensing techniques. Using coins/currency as weights that pull on the resistive yarn, swaying and making or not making contact to the body seem to be leading the way as they make the connection to the double meaning of liquidity as Dominique means it.
Today Mariam joined us in crocheting and she was much faster, but also more focused than we were. Since we were still thinking about how it will all come together and we gave her the straight-forward task of copying the coin design. She managed to make 3 copies in about 2 hours.
---
Finishing off the sleeve (20/6/2018)
Deciding tightness of the sleeve:

Mariam at work crocheting the enameled wire patches together with gray emrbroidery thread:

Sleeve with coins pinned on to decide placement:

---
Bringing things together (22/6/2018)
Working outside with good light to finish the circuit connections between the individual coin sensors.
Sketches of different parts that could snap together.
Powermesh tight top to attach crochet to:

Pouch for x-OSC wireless module and battery: