Making-of: Igne Oyasi
During our two-week TRIBE residency in Istanbul we will be completing a new fictional commission based on local crafts techniques, and inspiration from both past and present practices and cultures surrounding these techniques. The residency is organized by Amber Platform and hosted by Maumau.
We would like to thank the following people for their help and support of this project: Ekmel from amberPlatform for getting us to Istanbul, Özge and her mother Ms. Hüsne Sevindir for teaching us igne oyasi, Ms. Emine Semra Erkan for showing us her igne oyasi collection and being an inspiration for our project, Bagar and his students for their interest in our work, Oguz for his help and input, and Maumau for providing such a wonderful place to stay in the center of Istanbul!
---
A Collector of Exquisite Electronics?
After meeting with the igne oyasi collector Emine Semra Erkan, we were very keen to include such a character in our project story. "A collector of igne oyasi shows her Twitter scarves made during the oppressive regime as a means of secret communication in public."
What if instead of looking to have a collector of this particular Exquisite Electronics work, we use the character of the collector to tell the whole story of Exquisite Electronics. Something we would wait to introduce until we have more Exquisite Electronics examples. Just an idea.
Exquisite Electronics Series: The Crying Dress (2020 [2012]), Twitter Scarves (2040 [2014]), ……
---
Conductive Birds
Measuring conductivity:

Mitsufuji gold plated nylon thread, Karl-Grimm silver plated copper thread (thinner), Karl-Grim copper thread (thick):

---
How To Make an Igne Oyasi Twitter Bird
1) make 1 giraffe, jump on top and do 3 small-medium rabbit ears
2) jump ontop of the right rabbit ear and over to the left rabbit ear
3) make 3 medium rabbit ears on top of the first two rabbit ears, and one large rabbit ear on the last bottom rabbit ear
4) jump half way up the right side of the large rabbit ear and make two small rabbit ears here for the beak
5) jump back down to the first giraffe, end
---
Twitter Birds
Scans:
Photos:
---
Practice, Practice, Practice…
---
Experimenting with Different Threads
Waxed dental tape (green), linen (brown), cotton (green), polyester (neon green):

---
Talk and Workshop in Kadiköy
Talk at Bubi >> http://www.kobakant.at/?p=853
Meet the Materials Workshop >> http://www.kobakant.at/DIY/?p=5007
---
Haute Tech
First attempts at coming up with a background story for the work:
The Rise and Fall of Electronic Textiles in Turkey
The Haute Tech era that takes place in Turkey around 2050 imagines the future governing prospects of an Islamist political party. Under the "Authentic Culture Act" Turkey becomes more and more totalitarian. The state the state, the judicial system and the executive working together to control it's people under a regime that holds strong ties with the Islamic faith.

Under this oppressive regime the people, as always, find ways to live out their lives. Remain individuals. Express themselves.

To control the opinions and spread of information among it's people, the regime bans and blocks many international websites. The Twitter ban spring of 2014, is followed by bans of YouTube, Facebook and a number of music-sharing sites. Photo sharing sites such as Instagram and Flickr remain accessible, and become a platform for political dabate.

Protests are repeatedly met with violence from the police. Anybody suspected of anti-government activities is closely monitored and many individuals are arrested without charge.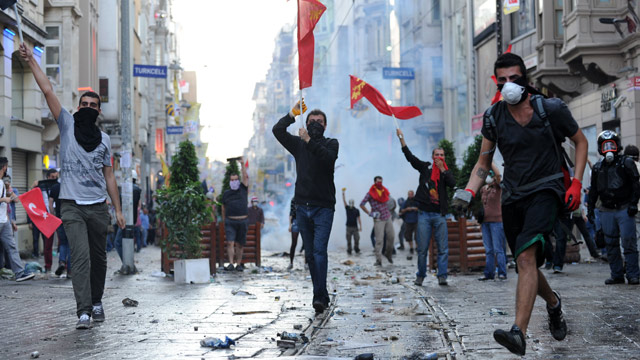 Tight government surveillance of individuals and organizations suspected of forming anti-government demonstrations makes the organization of public protests near impossible. An underground student movement develops a persistence of vision (POV) communication platform, that enables them to exchange information and organize large public protests. Their means of communication is not discovered by the ruling government until too late.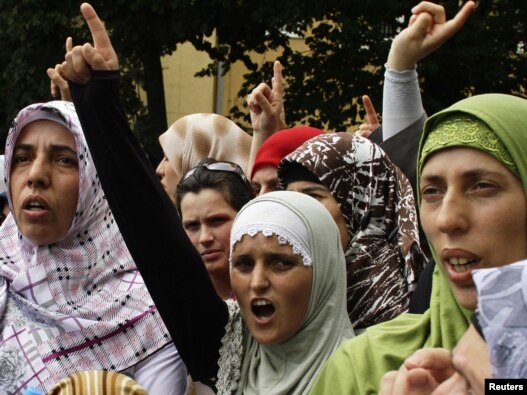 The student movement's communication was code-named "Twitter". Members used traditional headscarves decorated with Turkish needle point lace (igne oyasi) as a cover. Lace representations of the Twitter bird were used to indicate that a scarf was carrying a message. The message was encoded in a sequence of blinking infra-red LED lights and could be decoded by taking a photograph of the scarf as the wearer passed by.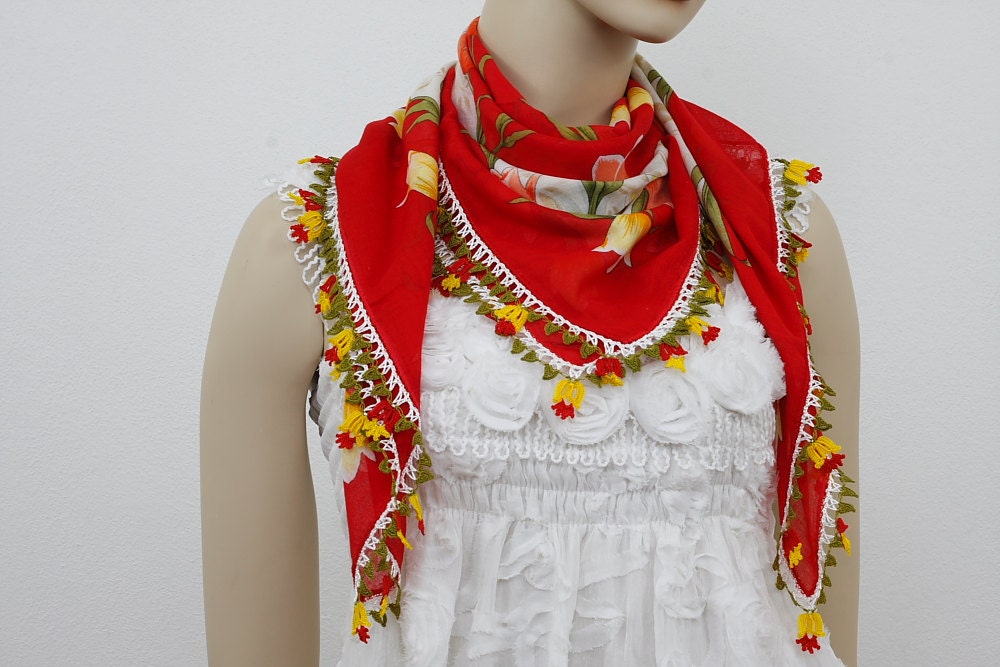 Possible future time-lines that enable the above scenario:
2014 -2050 Turkish Political Timeline
– Erdugans AKP party remains in power
– Wearing of headscarf increases in popularity among conservatives or becomes enforced by law?
– Some event triggers wider-spread wearing of headscarf (government enforced? by choice? statement? to avoid camera recognition? Cancer from damaged ozone layer?…)
– Headscarfs become popular among second generation. As a fashion item it is used to communicate a variety of styles (conservative, liberal, age, availability, profession…)
– With rise of wearable technology, Hajab is obvious candidate for incorporating tech
– Tech Hajabs include functionalists such as: wireless headphones, GPS tracking, radio receiver, pollution monitoring, temperature sensing, data storage, mesh networking, solar energy harvesting…
– Revival of igne oyasi (turkish needle lace) techniques to produce e-oyasi ornamentation of – Hajabs with unique functionality such as
2014 -2050 International Haute Tech Timeline
– Multinational companies begin investing in development of wearable tech
– Google Glass, Google Tie, Samsung Shoe, Instagram T-shirts, Twitter Jewelry, Sparkfun Rings…
– On Body Systems (OBS) brings new wireless network protocol to market
– Smart Phones become Smart Hubs, wave of "Indiscreet Devices" hit the market
– Wearable technologies based on Smart Hubs system entirely replace discrete devices (cellphones, smartphones, camera, watch, google glass…)
---
New Igne Oyasi Motifs
Twitter bird, Linux penguin, Open Hardware logo, mouse cursor, stripy mountain, conductive hills…

---
Sadberk Museum's Textile Collection
>> http://www.sadberkhanimmuzesi.org.tr/default.asp?page=sergiler&sr=detay&tid=1&aid=21&id=64&hl=en

---
Lesson #2
---
Meeting Emine Semra Erkan
>> http://www.oyamania.com/
>> http://www.youtube.com/watch?v=25k7-goJMZ4

---
eviHAN
Just around the corner from Maumau, this shop sells old and new igne oyasi scarves.
>> http://evihan.com/

---
Electronics are trendy, needle point lace is not?
We value our cellphones more than our mother's handicrafts. We crave useful items that can be part of our busy lives. But we're not without roots. We enjoy a home that feels homey, and not out of an IKEA catalog. We dislike kitsch. But would wear anything that is trendy. We're impressed by things that take time and skill to make, but would never have time to make them ourselves.
How are textile craft traditions existing, surviving and reinventing themselves today? What is becoming of cultures and traditions surrounding the practice of these crafts and the artifacts produced? The mothers who traditionally made dowry items for their daughter's dowry chest? The daughters who are studying at university and don't want lace ornamented towels decorating their bathrooms or doilys to cover their laptops. What kinds of mother-daughter communication are happening these days around the preparation of dowry items?
---
Practice Practice Practice
---
Igne Oyasi Symbolism
The motifs of Igne Oyasi is not just about making a pretty flowers, but they act as a symbol to communicate with others. Here is a list of meanings listed on Nallihan's municipality website
Oyamania by the Igne Oyasi collector Ms. Emine Semra Erkan also lists up the symbolism of the Igne Oyasi, but in Turkish.
Grape Needlework:
Symbolizing life-long good relations, this is put especially in the bundle for the mother-in-law.

Vine Needlework:
This symbolizes the love and companionship felt by the bride for her mother-in-law.
Pepper Needlework:
Particularly avoided in the bride's bundle, for it symbolizes unpleasantness and pain. Wives who are dissatisfied with their lives express this to their families by making pepper needlework.

Mother-in-Law's Tongue:
Because it stands for discord between the bride and her mother-in-law, this is never put in the wedding bundle.

Genevir Needlework:
Worn by mothers who are giving away a son to show their dignity and (because it is made with two colors) the fact that they will act as the situation demands.

Apple Blossom:
Standing for the spring, it expresses joy and glad tidings and is given to such close relatives as the mother-in-law or the wife of a brother-in-law. Newly-married wives who are expecting proclaim the good news by wearing apple blossom needlework.

Soldîer Needlework:
Worn by women whose husbands or children are in the army. When a young wife has a husband İn the army, she is treated with more çare and respect.
Carnation Needlework:
This expresses beauty, pleasantness and satisfaction. Used in the bride's bundle, it is also gîven to very elose rriends, and is the needle\vork of choice when making a trousseau for young people about to marry.

Orange Needlework:
One of a handful of needlework types made in the past using horse-haİr as a basc. it İs made espccially for trousseaus and sewn on silk scarves.

Rose Needlework:
Stands for endless love and happiness.

Cornel Cherry Needlework:
Worn by women who are suffering but don't let it show, this needlework is the visual equivalent of the old saying "I vomited blood and drank a sweet cornel cherry drink," which means you wenl ıhrougn hell but came up wiîh a smile on your face.
---
History and Culture around Igne Oyasi
Documentary about Igne Oyasi in Nallihan
first part:

second part:

Discovery and Tradition: Oya Needle >> http://valleyfiberlife.squarespace.com/imported-data/discovery-and-tradition-oya-needle-lace.html
Oya: Turkish Needle-Knotted Lace >> http://textilecollection.wisc.edu/featured_textile_articles/oya.html
Oya – Turkish Needle Lace >> http://handeyemagazine.com/content/oya-turkish-needle-lace
Turkish Oya by Patricia Lynette Hickman >> http://books.google.com.tr/books/about/Turkish_Oya.html?id=-EyqSgAACAAJ&redir_esc=y
Osmanlı'dan Günümüze Oyalar – Oya Culture Since the Ottomans >> http://www.pandora.com.tr/urun/osmanlidan-gunumuze-oyalar-oya-culture-since-the-ottomans/140346
People
Frances Ergen is a British woman married in Istanbul, where she runs a textile business that undertakes marketing for textile co-operatives and artists, and organises trips of Turkey for textile tourists.
>> http://francesergen.com/about-us/
>> https://www.facebook.com/pages/Textiles-in-Turkey/365236041154
Vocabulary
'Igne oyasi' – needle lace embroidery >> http://en.wikipedia.org/wiki/Needle_lace
'Tiğ oyasi' – crochet embroidery
'Mekik oyalar' – shuttle embroidery or tatting
'Firkete oya' – fork embroidery
Nallihan
Nallihan city site, has a list of symbol meanings >> http://www.nallihan.bel.tr/igneoyasi-brosur.asp
Nallihan government site >> http://www.nallihan.gov.tr/
Information about staying >> http://www.mymerhaba.com/Nall%C4%B1han-in-Turkey-4165.html
---
Visit to Şişli
>> http://galaksirehberim.tumblr.com/post/80079142261/kobakant-in-istanbul-hannah-and-mika-are

---
Online Literature
Marla Mallett
>> http://www.marlamallett.com/turkish.htm
Josephine Powell
>> http://www.marlamallett.com/powell.htm
>> http://www.nytimes.com/2012/08/30/world/europe/witness-to-a-fading-lifestyle-on-the-anatolian-plain.html?_r=0
>> http://www.cornucopia.net/magazine/articles/an-american-nomad/
Dowry: A. Cherished. Possession. or. an. Old-Fashioned. Tradition. in. a. Modernizing. Society?
Contemporary Consumption Rituals: A Research Anthology >> https://www.google.com.tr/search?tbo=p&tbm=bks&q=isbn:1135635625
ISMEK
Craft magazine PDFs >> http://ismek.ibb.gov.tr/ismEng/ismeksanatdergisi.asp
Flowers That Come Into Blossom Over Us: Needle Lace
ISMEK's Handicrafts Magazine 16 (English Version), pages 54-59 >> http://ismek.ibb.gov.tr/ismek-el-sanatlari-kurslari/webedition/file/ekitap/el_sanatlari/handicraft_eng16.pdf
The Historical Cinarcik Handiwork is Reviving on New Generation Hands
ISMEK's Handicrafts Magazine 16 (English Version), pages 136-139 >> http://ismek.ibb.gov.tr/ismek-el-sanatlari-kurslari/webedition/file/ekitap/el_sanatlari/handicraft_eng16.pdf
---
Second Hand Book Shopping for Literature
Beginner's Guide to Ottoman Embroidery
>> http://www.amazon.com/Beginners-Guide-Ottoman-Embroidery-Joyce
Embroidery of Amasya
Historical Costumes of Turkish Women
Osmanli Imparatorlugu Dönemi Türk Islemeleri
>> http://www.kygm.gov.tr/TR,914/osmanli-imparatorlugu-donemi-turk-islemeleri.html

World Textiles
>> http://www.amazon.com/World-Textiles-Visual-Traditional-Techniques

---
Research
Map of things >> https://mapsengine.google.com/map/edit?mid=zGjnSedY8Oyk.k7bUisMxNePk
Local Craft Connections
Özge Sevendir (student of Bagar)
Özge's mother practices brazilian embroidery, turkish needle point lace (igne oyasi) and crochet.
>> https://www.facebook.com/media/set/?set=a.10151630445418447.1073741825.646958446&type=1&l=21b13a0e0c

Dr. Cigdem Cini
Traditonal Turkish embroidery?
>> http://www.kh-berlin.de/index.php5?projectID=1899&Action=showProject
Dünya
Nisantiasi
Valikonagi Cad. Mim Kemal Apt. No:72/A
Tesvikiye – Sisli / Istanbul
Erenköy
Bagdat Cad. Kantarci Riza Sk. No: 2/1-3 34728
Erenköy – Kadiköy / Istanbul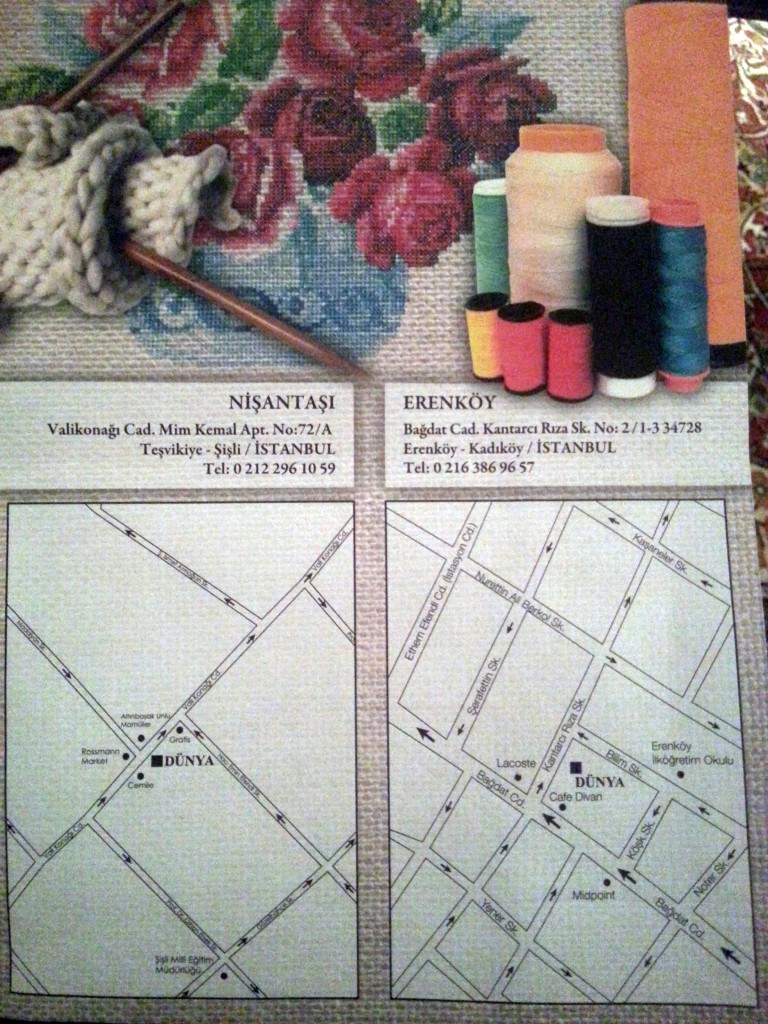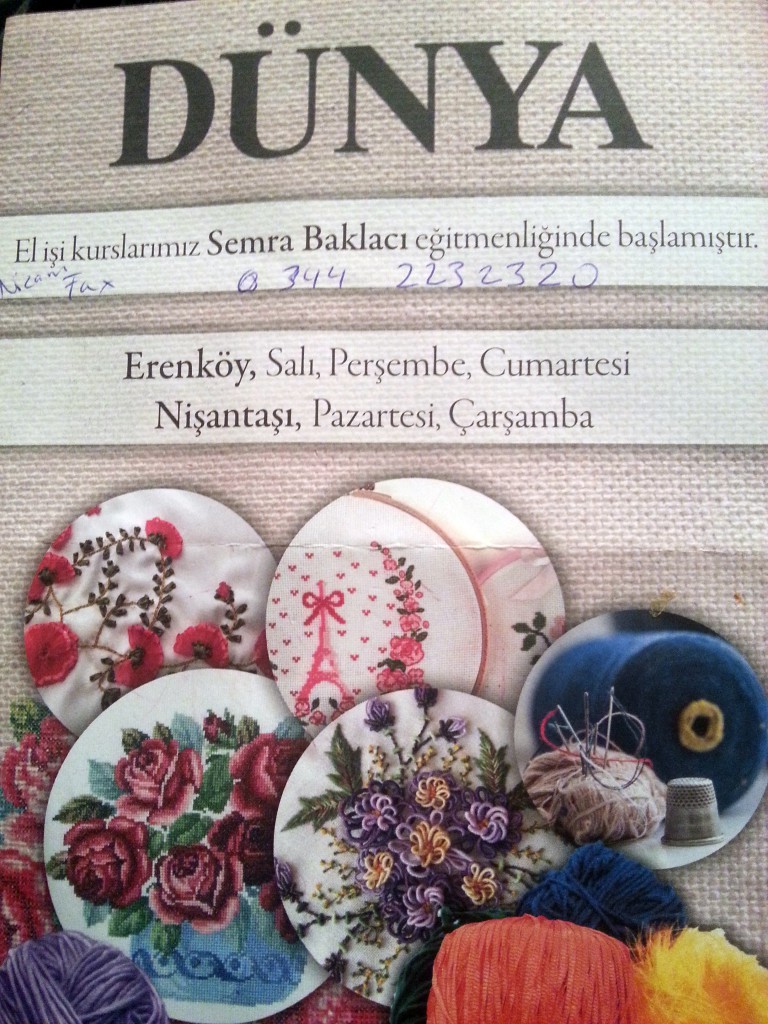 Camile Taman (student of Bagar)
Interested in modeling, stop-motion puppets, crochet, knitting, embroidery. Her mother Zuhal knows traditional Turkish techniques.
>> https://www.facebook.com/JamieLeeCreations
ISMEK
Scroll down for list of courses including: Dowry Preparation, Wedding Candy Embroidering, Bed Linen Sewing, Needlework Embroidey…
>> http://ismek.ibb.gov.tr/ismEng/kurs_icerik.asp?KursMerkezi=39
Traditional Turkish Arts and Crafts
Traditional Turkish textile handicrafts include: carpet-making, rug-making, cloth-weaving, embroidery, leather manufacture, felt-making, weaving…
Non-textile handicrafts: writing, tile-making, ceramics and pottery, musical instrument-making, masonry, copper work, basket-making, saddle-making, woodwork, cart-making…
>> http://www.turkishculture.org/whoiswho/turkish-traditional-art.htm
>> http://www.kultur.gov.tr/EN,35225/traditional-arts-and-crafts.html
>> http://www.hurriyet.com.tr/english/lifestyle/11659294.asp?gid=244
>> http://www.craftedinistanbul.com/?locale=en
Zanaat (= Artisan) >> http://tr.wikipedia.org/wiki/Zanaat
Oya – "Turkish Lace"
"Igne oyasi" means "needle lace embroidery" in Turkish.
>> http://www.turkishculture.org/textile-arts/oya-70.htm

Nakis – Turkish Embroidery
Pronounced [nagusch]
>> http://www.estanbul.com/brezilya-nakisi-teknikleri-brezilya-nakisi-yapimi-366424.html#.UybygIXUW09

Felt Making
Felt makers >> http://www.turkishculture.org/whoiswho/turkish-traditional-art/felt-maker.htm

Kilim/Carpet Making (weaving and knotting techniques)
>>

Weaving (terrycloth)
>>

Knitting Socks
>> http://www.kultur.gov.tr/EN,35266/socks.html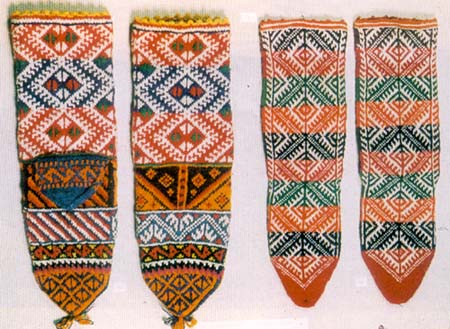 Craft Production in Istanbul
Black bench and the handloom woven loincloths, terry napkins…
SGM Doğal Tekstil Ve San Dış Tic Ltd
Adress: Gürsel Mah. Sevilen sok. No.24
Daire 17-18-19 Kat 3 34400 Kağıthane Istanbul/Turkey
>> http://lalay.net/story-lalay
Zemra Brand
>> http://www.zemzematelier.com/
Things to See
Fabric Shopping
– One quarter where you can buy lots of fabrics is Osmanbey/Nisantasi, There is one shop next to the others > Şafak Sokak.
– Another fabrics area is close to Grand Bazaar in Eminönü on the historical island.
– Eminonu (on the European side) is the best place to find materials for embroidery.
Museums
Research Center for Anatolian Civilizations Center for Archaeology, Cultural Heritage and Museum Studies in Turkey >> http://rcac.ku.edu.tr/about/rcac
Sadberk Hanim Museum at Sariyer have a good collection of historical embroidered articles as well as Topkapi Palace Museum:
Sadberk Hanım Museum >> http://www.sadberkhanimmuzesi.org.tr/default.asp?hl=en
Topkapi Palace Museum >> http://topkapipalace.com/hours.htm
Yozgat Müzesi (Nizamoğlu Konağı) >> http://www.yozgatmuzesi.gov.tr/
Archeological Museum >> http://www.istanbularkeoloji.gov.tr/main_page
Hagia Sofia Museum >> http://www.ayasofyamuzesi.gov.tr/en/
Museum of Turkish and Islamic Arts (closed???):
>> http://www.discoverislamicart.org/pm_partner.php?id=Mus01;tr&type=museum&theme=ISL
>> http://www.tiem.gov.tr/
Hackerspaces
Istanbul HS >> https://istanbulhs.org/
Base >> http://baseistanbul.org/
Second Hand Book Shops
"Sahaflar" on istiklal caddesi. Sahaflar is an old word for second-hand book stores. They are located close to the fish bazaar, flower passage (cicek pasaji).

---
TRIBE Residency Proposal
Project Summary
Exquisite Electronics is a series of projects that are set within a fictional future scenario, where the rich commission extravagant Haute Couture electronics from skilled craftsmen. Each project realized in the series starts with a fictional commission based on the local situation of the residency location. As the artists we spend time learning local textile techniques that are suitable to realizing the commission, both in terms of aesthetic, and electrical function. We then combine the traditional techniques with our experience in eTextiles to hand make a functioning Exquisite Electronics textile "device".
Following are a selection of photos from our past works to give an impression of the kind of work we have done.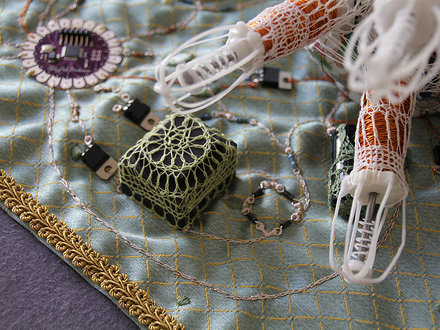 Detailed Project Description
In 2020, the global economy is in shambles. Localized production and craftsmanship experiences it's first major boom since it's decline preceding the 1920′s Industrial Revolution. The electronics sector in particular is hit by a scarcity of resources, causing prices to skyrocket. Electronics, previously known for their uniformity and quantity, almost overnight become a showcase for individuality, materiality and skilled labor. This development is now commonly known as Exquisite Electronics and today we live in a world where the rich commission extravagant Haute Couture electronics reminiscent of pre-industrial eras.
Given the above scenario, our aim is to create an Exquisite Electronic commission situated within this fictitious future. The Exquisite Electronic will be a functioning electronic device but will be handcrafted and embedded within the textile crafts such as sewing, embroidery, crochet, knitting, weaving and lace making. These textile techniques will be our means of creating electronic circuits, which require intense hand work, time and skill. The project comments on our relationships with electronics objects: how we make them, how we use them and what they mean to us.
This work is not only comments on the future of technology, but also on contemporary craft. We want to draw attention to the diminishing tradition of textile crafts, and give it new perspective by presenting it as an expressive technique for High Technology. Time consuming skilled workmanship is required for its perfection, and yet the results will not be uniform. This un-uniformity is the aesthetic quality we look for in the Exquisite Electronics. During the project production, we seek to work using local textile techniques and acquire skills through apprenticeship with local craftspeople. Not only we learn their skill, but we would also like to share and give back the combined electronics skill to locals through a public hands-on workshop event.
The work we are proposing will be the second commission in the Exquisite Electronic series. The first commission was titled "The Crying Dress" (please see: http://www.kobakant.at/?p=222), the result of a bizarre romantic tragedy, it commented on traditions around death, monogamy, and how human emotions change will (or will not) change in future. The Crying Dress was realized in the summer of 2012 during a residency at the MQ in Vienna, Austria.
For the work we are proposing to the TRIBE residency we will research and invent a fictional commission(er) based on the location of the residency. We will develop a commission story that reflects local social issues, culture, tradition and myths around the region. Based on the commission we receive, we will create an Exquisite Electronics textile object that involves traditional textile technique from the region as a part of the textile circuitry.
The outcome of this project is manifold. It is a finished Exquisite Electronics textile object, it is a new technique that combines local craft techniques with eTextile techniques and can be shared in a series of workshops with the local public, and it is a dialog between the artist and locals as well as a dialog between the artwork and the public.
How does the project relate to the topic Transition and Utopia?
The "Exquisite Electronic" future scenario that we propose can be seen as Dystopian, with the economy in shambles and scarcity of resources in the world. But this is exactly where the Utopian scenario of skilled craftsmanship can take place, because people re-experience the value of skilled workmanship, individuality and materiality in the production of contemporary goods.
The growth of the maker community and DIY movements of recent years demonstrates our desire to "make things" with our own hands. But this kind of "making" is not (yet) the main production method in our economy. Many goods such as furniture and clothing were once made by hand and now not any more, while other goods such as electronics were never produced this way. The production of the objects that surround us is ever more distanced from our daily lives. These objects are produced on an assembly line in a huge factory, somewhere in the world by someone whom you'll never meet.
But what if something changed? What if the electronics sector, which never experienced the craftsmanship tradition was to embrace the elaborate skilled work of craftsmanship? What effects would such a turn have on our traditions? culture? society and economy?
These underlying questions that are motivation for our proposal's concept directly relate to the topic of Transition and Utopia.
How and why would you describe this work as transitory?
As the project takes place in the fictional future scenario, it is located in a temporal, parallel society that is not our "current" nor our "future". The scenario it lives in is half dystopian and half utopian. It is not proposing how the world should become, but rather allows us to view society through a different sort of mirror. Many science fiction stories function this way, including "Utopia" by Thomas More. By offering a glimpse into a mirror that reflects a future based on transitory skills, this project offers us room for reflection on our changing society.
Technical Description / Methodology
For research projects, please describe your research methodology including the expected outcomes. If applicable, please described the desired form of presentation of research work – exhibition, talk, round table, printed paper, or any other (max. 300 words).
The project seeks for two inputs from the local region of the residency: 1) fictional commission(er) and 2) traditional textile technique. We will conduct research on this as a start of the project at our residency time. If possible, we would like to get on a short apprenticeship of an expert of the chosen technique. The technique can vary, from weaving, knitting, lacemaking, crocheting to embroidering and more. The acquired technique will be used in the eTextile production as a part of circuits, sensors or actuators. Please see these examples for how different textile techniques can be used in eTextile productions (http://www.kobakant.at/DIY/?cat=26). Depending on the techniques we choose we may need various textile equipment (i.e. loom). We will also need basic textile equipment such as a sewing machine and an iron. As for the electronics, we will need a basic electronics tools such as soldering stations and multimeters.
The created eTextile object can be exhibited in installation form or in performance form (worn by a model).
We would also like to organize a 1-2 day workshop as part of the project to share the generated traditional craft + eTextile skill with the public.
Residency motivation
One of our main artistic interests is to combine traditional textile craft skills with electronics to create new eTextile techniques. Many of the residency sites are known for their rich practices in textile traditions, and would be ideal locations for us to research and acquire skills for our proposed project. Our project also looks at introducing the eTextile techniques back to the local craft communities who are already highly skilled in textile processes.