WOOLPUNK CONGRESS: Sept 21/22/23
an alternative past for a different now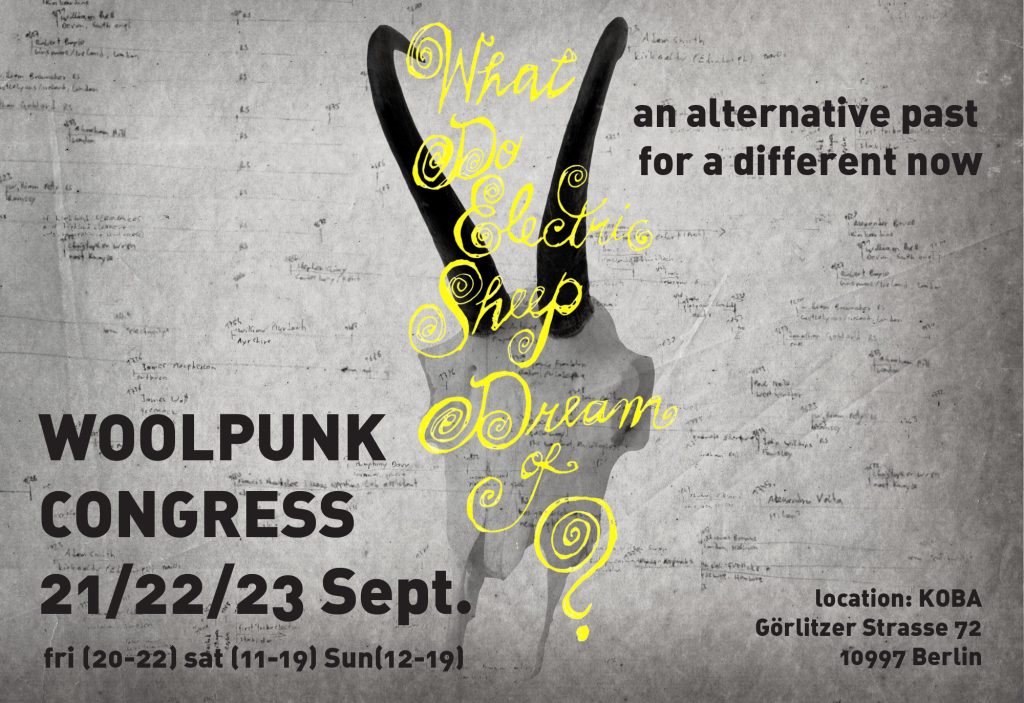 September 21/22/23 (20-22h, 11-19h, 12-19h)
KOBA, Görlitzer Strasse 72, 10997 Berlin
open to public, free entrance
Stories were told even long before we had written language. Some are about the past, some about the present and a possible future. Some tell you wisdom, some victory, some talk about failures or just want to entertain you. Stories are told to make you think. Some move people emotionally, practically and politically.
During the congress we propose to imagine a history that did not happen. We will speculate about woolpunks who did not make it into our history books, who could have been ancestors of the society "we could have been".
Woolpunk congress kicks off with a Shoptalk evening with artists who use storytelling in their works, followed by 2 days of hands-on co-storymaking.
Participants will discuss, develop and fantasize about Woolpunk and how they lived. We will write short text snippets, sketch characters and tools, and produce story-fragments. At the end of the event, these snippets will be connected to a bigger narrative.
Speculative Storytelling is a tool to critically think about our current world and imagine other futures. It allows us to practice social dreaming.
more details about the woolpunk >> http://woolpunk.org/
Schedule:
September 21 (Fri)
20:00 – 21:30 KOBA SHOPTALK: artists presentation
September 22 (Sat)
11:00 – 12:00 Introduction to Woolpunk and Speculative Storytelling
12:00 – 18:00 co-storymaking activities (writing/ sketching)
14:00 – 16:00 wool + electricity workshop
18:00 – 19:00 wine and chat
September 23 (Sun)
12:00 – 14:00 Wool Brunch
14:00 – 18:00 co-storymaking activities (writing/ sketching)
18:00 – 19:00 end presentation
The event is open to public. You can decide to participate for the whole duration to follow the story making process, or drop by for shot time to participate in snippets.If you like to learn about woolpunk better catch the introduction presentation on the 22nd at 11:00.